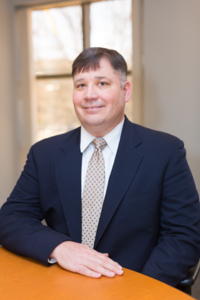 Scott Murray, Class of '90, was raised on the Wind River reservation in Wyoming and is a member of the Eastern Shoshone tribe. He graduated with a B.S. in History and joined the fleet as a Surface Warfare Officer.
He served division officer tours in USS Ticonderoga (CG 47) and as a plank owner in USS Carter Hall (LSD 50).  After completing his service obligation, Scott left the Navy for a career in information technology.
Scott has held technology leadership roles in some of the world's best-known companies including The Coca-Cola Company, Dell, and Microsoft. Scott's positions have focused on digital transformation and strategy at all levels in the enterprise.  He.is skilled in IT management consulting and business process improvement, leveraging over 20 years of experience in business consulting, project management, IT operations, IT Outsourcing, and client management.
Scott is married to the former Shannon Lacy of Satellite Beach, Florida.  Shannon is a 1992 graduate of the US Naval Academy.  They have two sons: Michael (US Military Academy class of 2017), and Shawn (US Naval Academy class of 2020).  Scott's hobbies include camping, hunting, reading history, and following Navy football.
Captain Foster grew up in Bristow, Oklahoma. A Muscogee (Creek) Indian, he  graduated from the Naval Academy with a Bachelor of Science degree in Engineering in  1992. Following Surface Warfare Officer training in Newport, RI, he reported to USS   SHREVEPORT (LPD 12) in Norfolk, VA and Combat Systems Training Group, Norfolk, VA as the Combat Systems Department Head.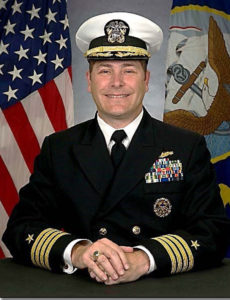 Captain Foster continued his service beyond active duty with affiliation into a NAVSEA Reserve Unit (PMS 377) in Washington, DC followed by a tour as Operations Officer for Naval Beach Group TWO Det 206.  He served as a Commanding Officer for Beachmaster Unit TWO Det 206 in Baltimore and Amphibious Construction Battalion TWO Det 405 in Ebensburg, PA. Following a tour at Military Sealift Command (MSC) Headquarters in Washington, DC, he reported to the Pentagon as an OPNAV Action Officer and Navy Crisis Action Team watch officer for CNO Readiness and Logistics Branch (N4). Captain Foster mobilized to active duty as the CO of Navy Law and Order Det H and Director of Emergency Services/Provost Marshal for Army Central Command/Area Support Group-Kuwait. He returned as the Deputy CO of NR United States Strategic Command's Center for Combating Weapons of Mass Destruction (SCC-WMD) followed by a tour with United States Cyber Command as Plans Branch Chief and Cyber Ops Planner. He commanded NR United States Fleet Forces Command Naval Cooperation and Guidance for Shipping (NCAGS) in Houston, TX prior to leading the Joint Staff (South)'s J35 Reserve Division.
He is currently assigned as Commanding Officer of Navy Reserve Command US 2nd Fleet Operations.
Awards reflect service with incredible shipmates and include 2 Defense Meritorious Service Medals, 2 Meritorious Service Medals, Joint Service Commendation Medal, 3 Navy/Marine Corps Commendation Medals, 3 Achievement Medals (Navy/Marine Corps and Army), Expert Pistol and various unit, service and campaign awards. Graduate of the Naval War College JPME Program in National Security Studies. Program Management Professional (PMP) Certified.
Captain Foster resides in Maryland with his wife, Nicole. They have four children.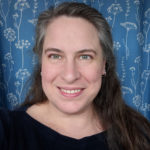 Becky Quinlan '97, PSC Trustee and member of the Caddo Nation, will be our moderator.